Do you have vitiligo on your face? What about free treatment for you? Here comes your chance.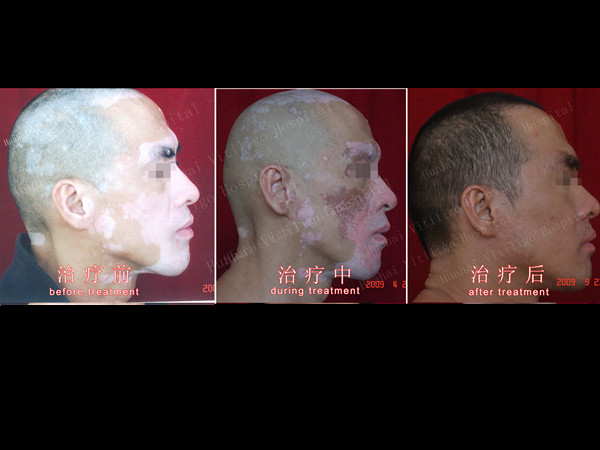 Huahai Vitiligo Hospital is appealing to the attention of people suffering from vitiligo. In order to show the magic effect of Traditional Chinese Medicine Treatment- Black and White Cured Together and help vitiligo patients to recover soon, from April 20, 2014, face-vitiligo patients will be involved in the event of complimentary treatment which is held by Huahai Vitiligo Hospital. The earliest 10 patients (meet the requirements of rescue package) will get complimentary treatment through the whole treatment. Vitiligo patients can get information and apply from Huahai Vitiligo Hospital's website. Another good news is the hospital's Korean website comes into use. Korean patients can come to get information directly.
Vitiligo is a common skin disease and the main harm of vitiligo is the affect to patients' appearance, especially when white spots are on their face, bring kinds of trouble including career, marriage, social relations etc. Incorrect treatment or delayed treatment can bring skin cancer or other complications. It is also possible to spread all over the body. Therefore, curing vitiligo is important for vitiligo patients to enhance the quality of life.
Huahai Vitiligo Hospital is a professional medical institution which has technology exploring, special disease treating, global service and distinguishing feature of traditional Chinese medicine. It is also the United Nations' International Vitiligo Diagnosis and Treatment of Demonstration Base, China promotion headquarters of Black and White Cured Together vitiligo technology. On the basis of traditional Chinese medicine, combined to modern medicine, Huahai Vitiligo Hospital developed Black and White Cured Together technology. The technology has both experience and innovation and has made great contributions to vitiligo treatment. Through the deep research of biology, genetics, immunology , the technology shows that it can activate tyrosinase activity, regulate the immune system, improve microcirculation, promote the melanin cell adhesion and migration and melanin synthesis. Clinical observation shows that the technology has the characteristics of a quick effect, short treatment course, high cure rate, green security. It has magical effective for various types of vitiligo, especially big size and long history vitiligo patients. Via expert appraisal, the curative effect reaches international leading level. The technology has serviced more than 115 countries around the world.
Huahai Vitiligo Hospital succeeded in holding the same activity from July, 2013 in mainland China . The success has been spoken highly of by government and some patients who benefit from the activity recovered. The attachments are some recovered patients'photos.
To show the magic effect of traditional Chinese medicine to the world, Huahai Vitiligo Hospital is holding the public welfare activity worldwide now.